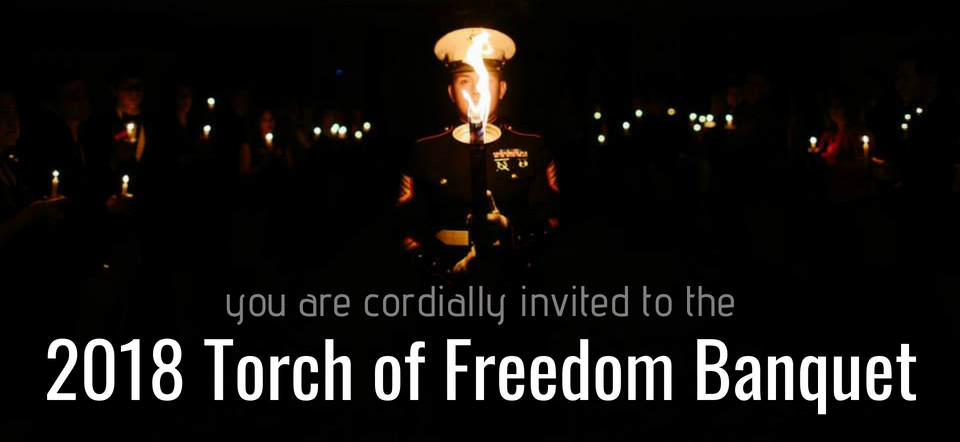 Friday, Aug 2, 2019 | 7:00 – 9:30 pm
Austin Location to be determined.
Every year at Patriot Academy, we have a Torch of Freedom ceremonial graduation banquet. This has become a beloved tradition for parents, students, and lovers of freedom everywhere. Whether you've been before, or 2018 will be your first time, this year's banquet is sure to be a very special treat.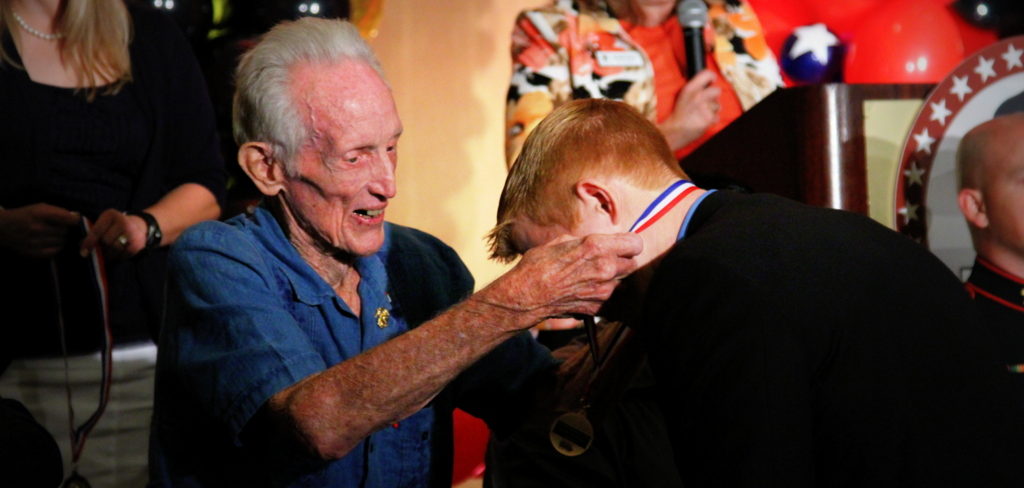 ---
---
---
Sponsor the Banquet
Our sponsors make it possible for us to continue to host this wonderful program. Please consider one of the following sponsorship packages.
Founder – $2,500 (reserved table for 10, photo w/Guest Speaker; program listing)
Patriot – $1,500 (8 reserved seats, photo w/Guest Speaker; program listing)
Minuteman – $1,000 (6 tickets, photo w/Guest Speaker; program listing)
Sponsor – $400 (2 tickets, photo w/Guest Speaker; program listing)
To become a sponsor, select a sponsorship type from the ticket menu above.
---
What People Say about the Banquet
"We attended the Patriot Academy banquet, and we were so blessed by the whole experience. It was truly uplifting to see our veterans treated with so much honor, and then to see them turn and show that same level of respect to the graduates of Patriot Academy. The whole evening was encouraging, inspiring, and gave a vision into the future of our nation. It gave us hope! The next year we brought friends and business associates, and encouraged parents to send students to Patriot Academy. We love all that takes place at Patriot Academy, and then it all culminates in an amazing banquet celebration; making the week unforgettable. It's something we would never miss!" – Jeff and Andrea Moore, Kaufman, Texas
In one student's words, "The Graduation Banquet is the culmination of the Patriot Academy experience. After a long, exciting and tiresome week, the banquet is an excellent time of reflection with friends, family and true American Heroes. Throughout the week at Patriot Academy the workshops, and instruction help to instill a clear understanding of a Christian-Conservative worldview in order to help protect and maintain our God-given, essential liberties. And then the dinner reveals just how much sacrifice has been given for those liberties. Spending the evening with American soldiers and veterans as they pass on the torch of freedom to us reveals the seriousness of our task. When those who have already paid for your liberty look you in the eye and place that medal around your neck, those lessons take on a very real meaning. The passing on of the torch of liberty from these Heroes is the crowning moment of Patriot Academy.  One that will inspire you to go and lead the change to protect that freedom."
The evening includes a rousing update on the advance of freedom around the country from an exceptional keynote speaker. (Past speakers include David Barton, Rafael Cruz, Sen. Brian Birdwell, and The Honorable Allen West) You'll be treated to testimonies from students who have spent the week challenged and sharpened by a week of intensive training. The evening culminates in a beautiful torch passing ceremony, in which veterans of our Armed Forces ceremoniously pass the Torch of Freedom from one generation to the next!
Join us in Austin, Texas for a very special evening.  We promise it will be unforgettable.